Before I had visited Ephesus, I was already aware that it's a majestic sight that you can ever see in Turkey. Well, after my visit, I can easily say that it didn't disappoint me, both with the remains and the history behind of them. In fact, it must be at the top of your list of places to visit once you land in Turkey. You can even tell this by looking at the entry fee: Ephesus is the most expensive museum/ancient city of the country. There will be more on the entry fee later in the article.
Ephesus is inscribed on UNESCO World Heritage List in 2015 deservedly. In this article, I tried to put together some of the things that you'd better know before you plan to visit Ephesus, or, alternatively, things that would convince you to visit there.
Brief history of Ephesus
Much detailed information can be found in books and websites, but I would like to provide some basic information on Ephesus.
The region has been inhabited since 7th millenium BC. Once the Ionians from Greek mainlaind conquered this area from the local civilizations such as Carians and Lydians. The founder is of the city is accepted as Androklos and for the next couple centuries, the region received migrations from other Ionian areas.
The city endured several attacks and invasions from 7th century BC and went through a destabilized period, all the way until the conquerment of Alexander the Great. Ephesus became part of Hellenic league again. It is this period when the Ephesus as we know has been solidified with the streets and some landmark buildings. During Roman Period, from 1st century BC to 4th century AD, the city became an important trading port (yes, once Ephesus had access to sea). But earthquakes and fires caused very serious damage all over the city. For the long Byzantine period, the city gradually lost its importance to the neighboring Agios Theologos (today's Selçuk). It become even more neglected through the end of Byzantine era and as the Turkic tribes and eventually the Ottoman Empire conquer the area, the city became almost forgotten.
It wasn't until 19th century that Ephesus would be unearthed again. First British worked on excavations, then Austrians took over. We owe the most of the sights visible today to the lenghty and tidy work of Austrians, Germans and Turks. Now, I will get to the details on the transportation for the colossal ancient city.
How to get to Ephesus (Efes)
It's relatively easy to visit Ephesus regardless of the spot you land in Turkey. The ancient city is located within the boundaries of Selçuk, which is an administrative division of the western coast city İzmir, the third biggest city of Turkey.
İzmir itself is a very beautiful city and you should spend some time there if you decide to visit Ephesus. But it should be the subject of another post, so I'll leave it here. All you need to know is, to reach Ephesus, better get to İzmir first, and then Selçuk.
From İzmir Airport
There are many international flights to İzmir Adnan Menderes International Airport (ADB), as well as many other cities of Turkey, including multiple daily flights from İstanbul and Ankara, the capital. From there, it's very easy to reach Selçuk, which is situated about 70 km south of İzmir.
The airport is connected to downtown İzmir and also Selçuk with İzmir's main commuter rail system, İzban. The İzban station is located just outside the main terminal building. All you have to do is finding the station and buying an "İzmirim Kart", the public transportation card of İzmir from a kiosk. The fee of the card itself is 7.5 TL as of March 2021. I recommend you to deposit at least 10 TL more to your card, so that you can guarantee your trip to Selçuk. You can directly pay 20 TL to both buy the card and have the rest loaded to your card as the travel credit.
(At this point, I must mention that having extra credit always helps, since the İzban transportation system withdraws the maximum amount from your card, as if you will travel to the farthest station from the station you board the train. After you leave the train and the platform area, you should show it to the reloading machines just outside, to get the leftovers reloaded back to your card.)
Anyway, you should take the southbound train moving towards Tepeköy and Selçuk direction. The first train will terminate at Tepeköy, where you should take the other train to Selçuk and get off at terminus station Selçuk for good. Once you receive your refund from the machines, you will see that the travel cost is about 6.5 TL from airport to Selçuk.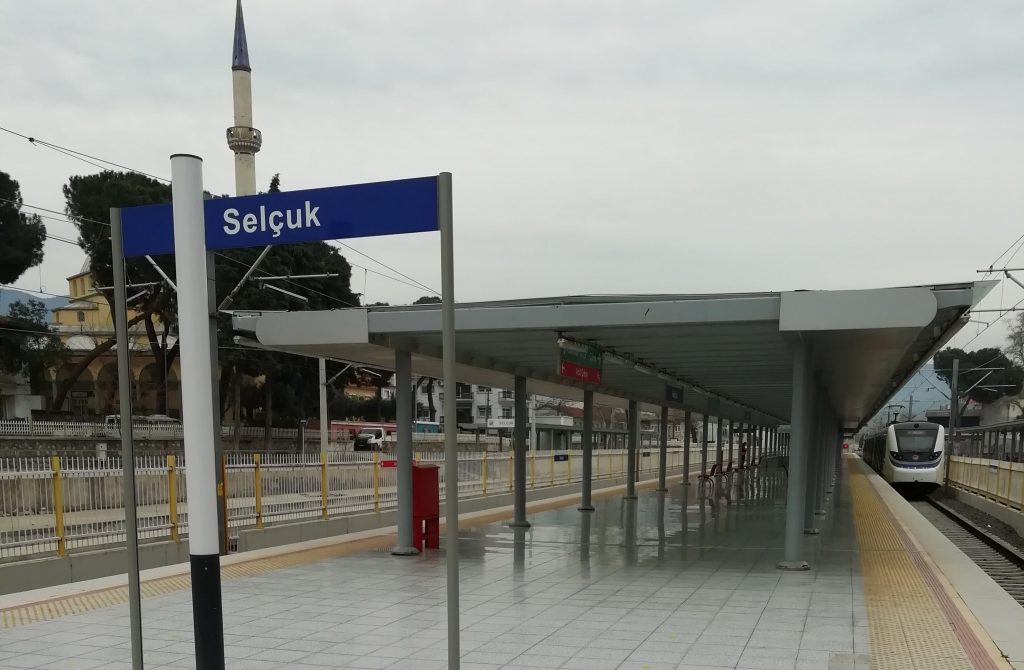 Via bus from another city
If you're arriving İzmir via bus, you would end up at İzmir's main coach station (otogar). Here you can see that there are regularly departing buses to all of İzmir's counties, including Selçuk. You can take these buses to directly reach Selçuk. You can also take İzban, but you have to take another bus to the nearest train station of Halkapınar, or you can elect to walk more than 6 km or take a taxi, I hardly recommend these, though. If you like, you can always rent a car in İzmir, too.
It's also possible to find buses to Selçuk from other famous southern coast cities of Turkey, such as Bodrum or Antalya, but they are not frequent. So getting to İzmir first makes a lot of sense.
From Selçuk to Ephesus
Once you get to Selçuk, its rather easy to get Ephesus lower gate, because it's about 3 km away from the center of the city. You can even select to get to walk, you can reach there within an hour or maybe even a little quicker, depending on your pace.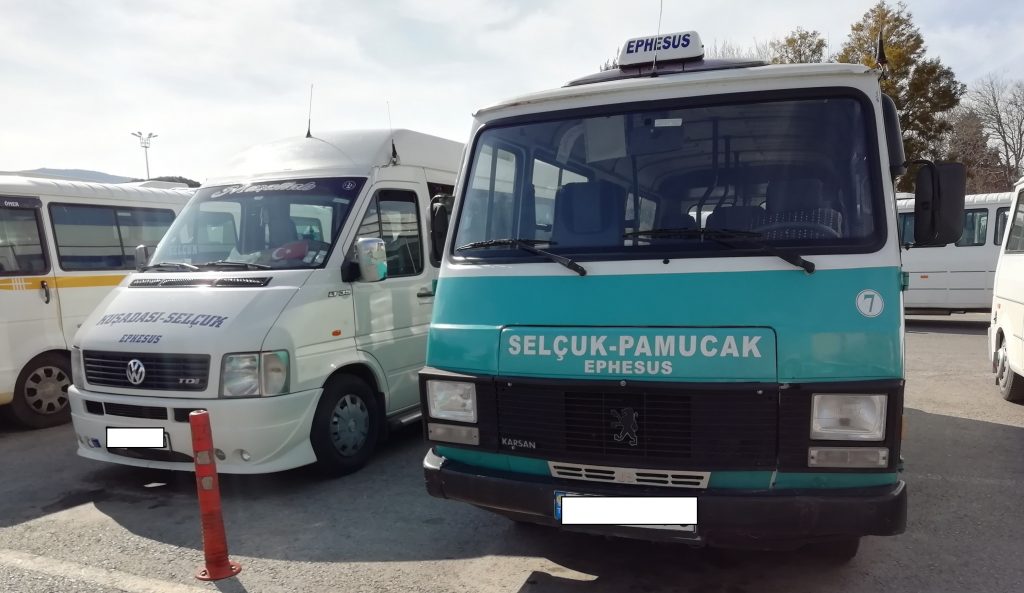 There are frequent minibuses to other neighboring cities (like Kuşadası, the nearby seaside resort), and they pass through the lower gate of Ephesus. They depart from the Selçuk coach station (Selçuk Otogarı), which is not so far from Selçuk train station. The buses charge 4 TL (€ 0.40) to get you to Efes as of March 2021. Taking a taxi might be just another option.
For the ones with a private or rented car, I should mention that the fee of using the parking lot is 25 TL.
Ephesus Ancient City
Ephesus has two main gates, named as lower (alt kapı) and upper (üst kapı). Lower gate about 1 km from the junction on Selçuk-Kuşadası road, and the buses on this route make a stop at Ephesus lower gate. At the lower gate, there are many shops that you can buy some souvenirs and also eat.
The lower gate is closer to easier transportation methods. Also, if you start from the lower gate, you can climb up hill to see the entire city, and once you are finished (and get a little bit tired) at the upper gate, you can easily walk down to get your starting point. On the other hand, the upper gate is closer to House of Virgin Mary (Meryem Ana Evi) if you would like to visit there as well. So, you can make your choice according to your later planning.
Once you get in there, you will see the plan of the city and you will have a sense about the limits of the Ephesus. Yes, it was really huge so you should be prepared to spend at least two hours there with considerable walk is involved. Because the city covers a big area and there are so many distinct parts of the city that you shouldn't overlook. I would like to mention some of them here.
Celsus Library
This is arguably the most famous sight of Ephesus and, that's why you often see the photo of here in everything about there. This is a fascinating building, a heroon actually, built in honor of Roman senator Celsus, by his son Gaius Julius Aquila. The sarcophagus of Celsus was beneath here as well.
At the entrance façade of the library, there are several statues which represent the notable features of Celsus, such as his wisdom. On the epitaphs, the dedications are made and the construction process has been explained in detail.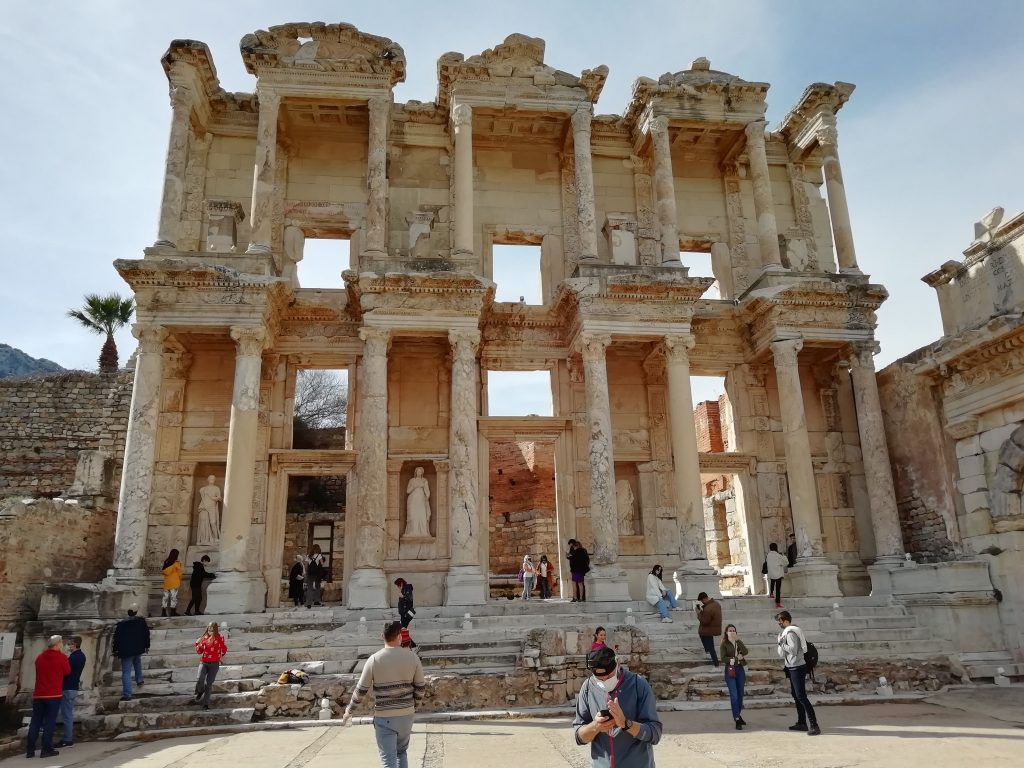 Thanks to the successful renovation works made during the 1970s century, the façade is just as majestic as it was built recently. I'm sure you'll want to take many photos and selfies in front of this magnificent structure with so many elaborate details that you'll miss most of them, and still will be quite amazed.
The Church of Mary: A big church from Byzantine era, the length of it is about 150 metres. Well preserved. Even Pope John VI prayed here once.
The Harbour: It's no more a harbour, because there isn't any water around, however, the other side of the way that leads to the theater was once the harbour where the sea trade of the Ephesus is carried out. There was a channel that connected the city to Aegean Sea once. Now there are several projects to build a channel here once again, but right now, you see just a piece of land.
The Great Theater: One of the best amphitheaters you can see. Built during Hellenistic period and improved by Romans. With three storey structure, it's huge and you must definitely climb to its stands -to the higher stands, if possible- and you'd have a better idea about how majestic it is. You can take a sip of water here and eat some snacks, because I can't imagine a better place to have a little rest. You can do it all while you imagine that people used to sit there and watch performances by actors and gladiators.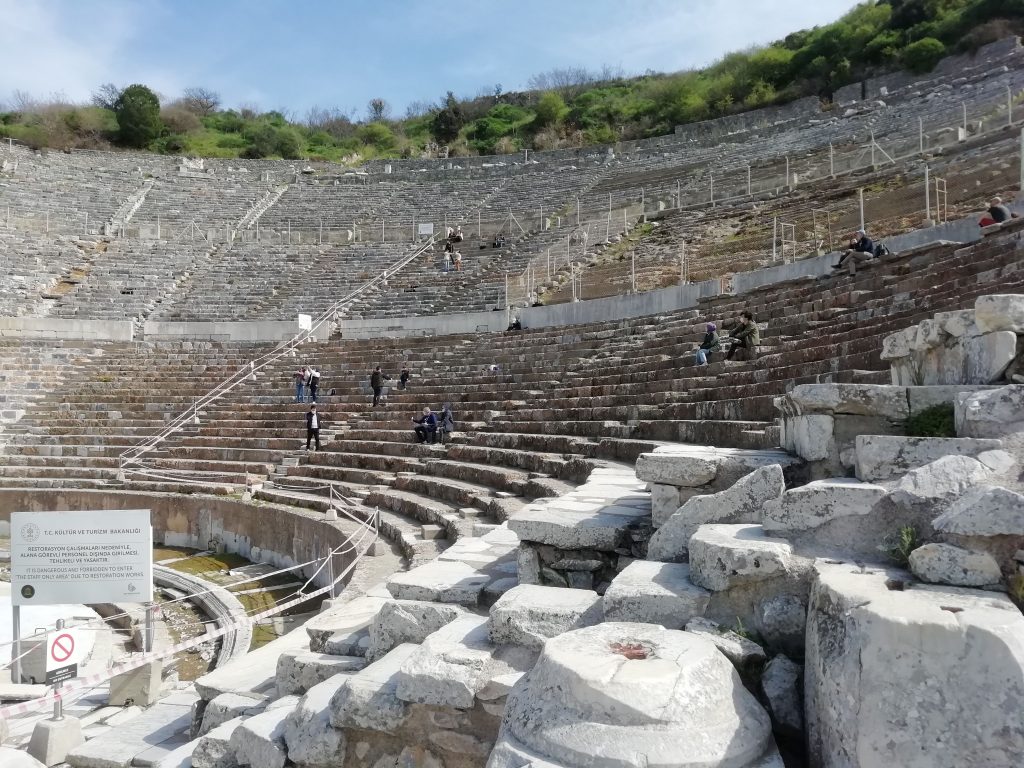 Marketplace: This huge area was once surrounded by many stores from four sides. Thus it was the center of the all trade and shopping going on in Ephesus.
The Curetes Street: The uphill street which really feels like one of the early examples of modern urban planning. The visible pipelines and sewer system you see around only reinforce the fact that Ephesus is really well-built city. While you are walking on the street, right before the temples, statues, fountains, columns etc, it almost feels like wandering in the narrow streets of any Old Town of a European capital. This is also where you get a good idea about the size of the city, because you have to walk about 200 meters until you reach the end of the street and you still have plenty to see ahead.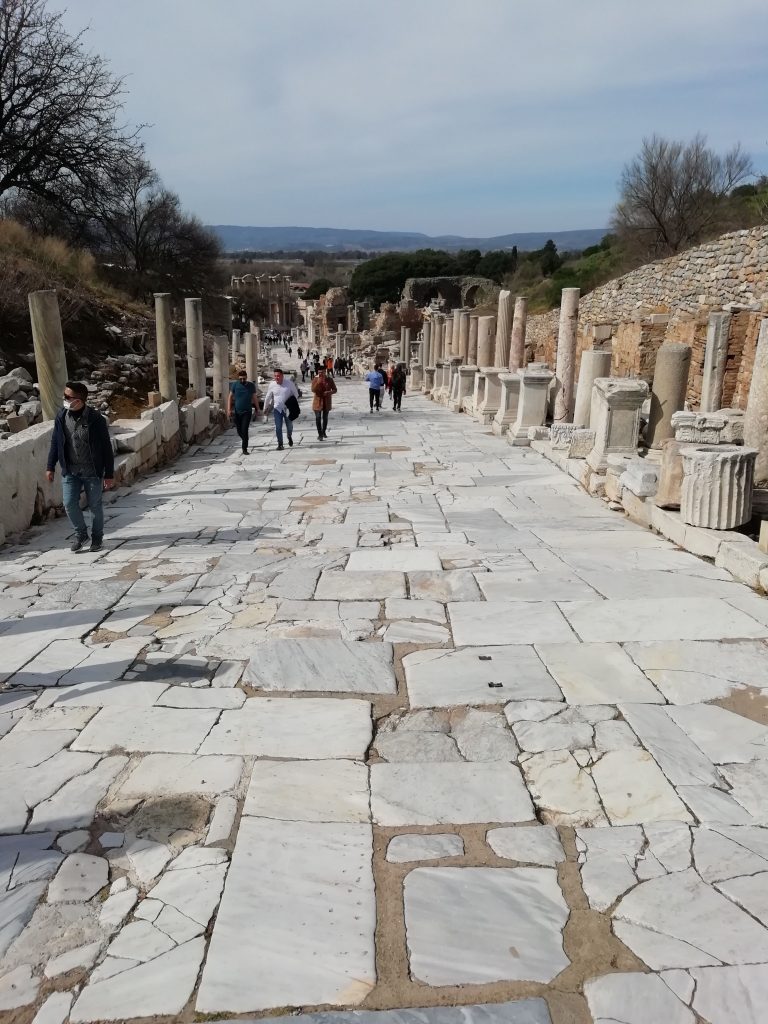 Hadrianus Temple: This was erected to honour Roman emperor Hadrian. There are only parts of the statues, but the figures on the arc are marvellous.
Traianus Fountain: Another beautiful sight in Ephesus, which is dedicated to another Roman empire and also partially reconstructed. Only the bottom of the Traianus statues is intact, it's interesting to see the foot of Trajan over a sphere which represents the earth.
The Bouleuterion: This small auditorium is a very small scaled version of the theater, and equally as nice. The town counsil meetings and stage performances were held here as well.
Terrace House 2
Terrace houses have been discovered relatively recently and has been protected under a special tent construction. It's consisted of a series of houses that's been erected over a slope and they display very well protected example of a complete neighborhood. There many halls and rooms that make houses together, as well as breathtaking mosaics, floor tiles, graffitis and wall paintings. It was used both during Roman and Byzantine periods, during the latter, it housed craftsmen and their workshops. There is a basilica inside as well.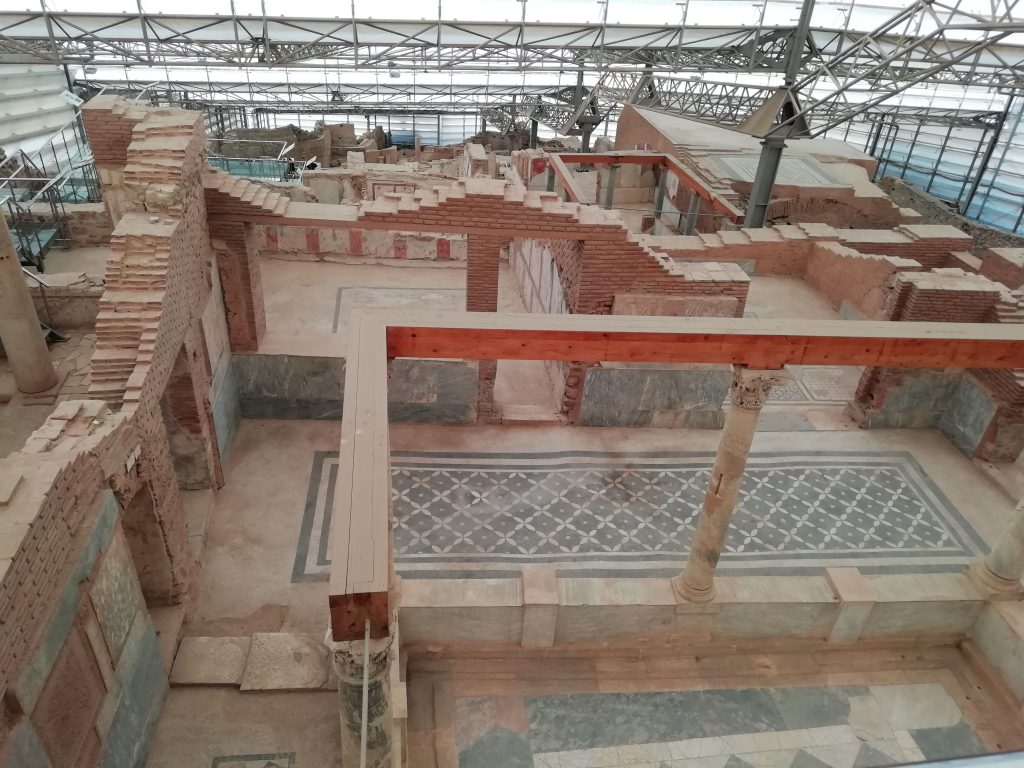 The entry is on the Curetes Street. Once you receive your ticket, you get to climb through the metal stairs built upon the hill. But you can still closely observe the artifacts as you move forward. It's still a work in progress, as you can see the hall where the unearthed marble pieces are currently brought together. There are really fantastic paintings on walls, in which several animals, figures and even philosophers and mythical creatures are engraved. The mosaics are also very beautiful, but I must single one of them out, which depicts Amphitrite and Poseidon. As you walk through, you can't help being amazed and also surprised with the fact that how many things have been squeezed into such a small area, and how many more beauties would be hiding under.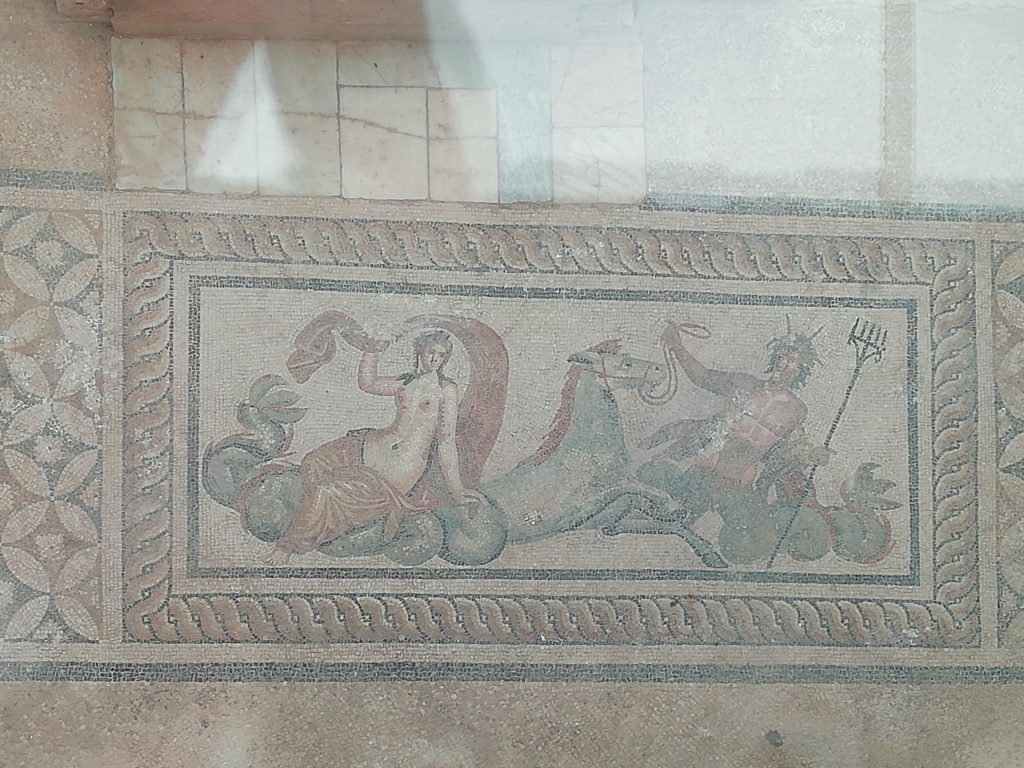 Once Terrace Houses were included in the entry fee of Ephesus itself. But currently you have to buy a separate ticket right at the entry to the terrace. It costs another 45 TL, but it is definitely worth it. I believe it will become more well-known after couple of decades as even more artifacts are discovered and the restoration works would be completed.
Entry fee of Ephesus and 'Müzekart'
As mentioned above, the single entry fee of Ephesus Ancient City is 120 TL (approximately €12) as of March 2021. But, this is not particularly prefered by the visitors. Buying Müzekart (Museum pass of Turkey) makes a lot of sense, especially if Ephesus is not going to be your lone stop in Turkey.
It is almost a must for Turkish citizens, because Müzekart+ costs only 60 TL for Turkish citizens and is valid over a year with up to two visits to each of the sites allowed, including Ephesus.
If you are not a Turkish citizen, however, you can buy Museum Pass Türkiye, which costs 550 TL but gives free access to all the available museums & sights without any further payment for 15 days. The Museum Pass can be either purchased online or bought right at the gates of Ephesus.
As I mentioned above, The Terrace Houses require another ticket that you should buy separately.
Selçuk Efes Museum
It's quite safe to say that if you're visiting Ephesus, you must see the Ephesus Museum in Selçuk, too. We know that majority of the artifacts dug out of the ancienty city have been transported to Europe, mainly Britain, but the ones found after 1906 remain in Turkey. And they are mostly on display at Selçuk Efes Museum.
In the museum, you'd be able to see many statues, reliefs, coins and other artifacts dug out of Ephesus and the terrace houses. Also you'll have a better idea about the daily life and religious rituals during the peak centuries. There is information about the Temple of Artemis as well.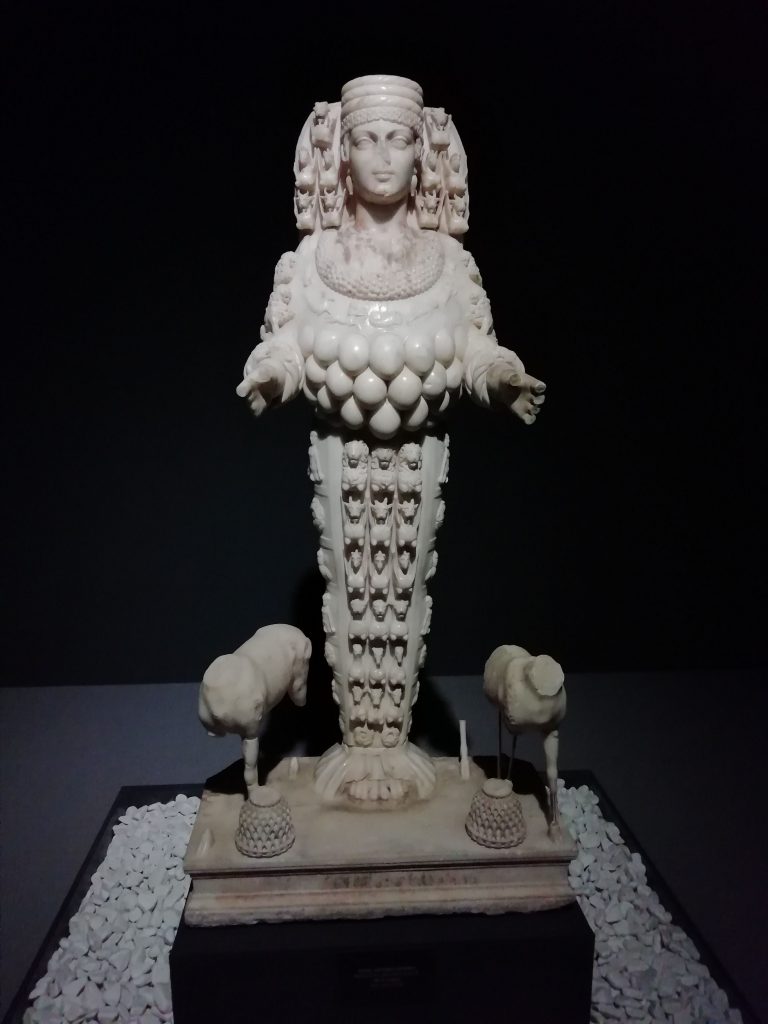 The highlights of the museum are definitely the two beautiful marble Artemis statues from 1st century AD. Very well-preserved and impressive, you'll fall in love with the elaborate details, in which both real and mythical creatures are engraved. It's no surprise as Artemis was the goddess of nature and wilderness.
The entrance fee to the museum is 25 TL, but it's free if you have 'Müzekart' we mentioned above.
Other sights in Selçuk
The good news is that even if you exclude Ephesus, Selçuk is a small town with many historical sights from different eras. The area currently occupied by Selçuk city has hosted many civilizations throughout centuries. And, there are many remains of them visible even today.
The Basilica of St. John hosts the remains of a huge chapel including the grave site believed to belong to John the Apostle. So this place was once a pilgrimage site for Christians.
Situated at top of a hill, there are many columns, stones and several restored arches can be seen here. But the cross-like shape of the complex is pretty much intact as you can see from its aerial photos. The supposed grave of John the Apostle is marked by four columns and a simple name plaque on it.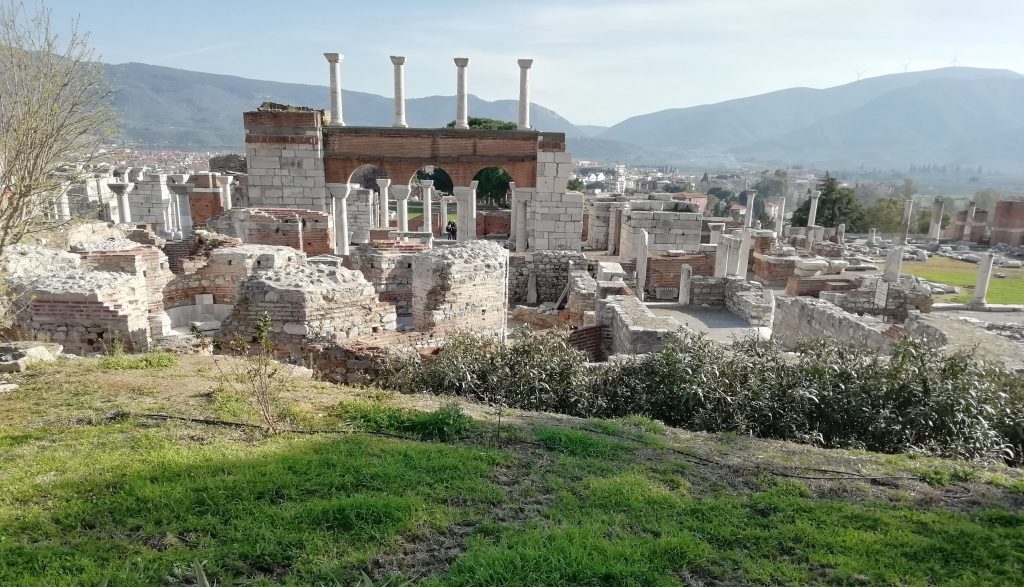 Not much to see here, but it's undoubtably worth the visit. With 'Müzekart', the entrance is free. You can also get a closer look at the Ayasuluk Castle, too.
Temple of Artemis (or Artemision) is one of the seven wonders of the ancient world. And it was built in the area now we call as Selçuk. Although there is almost no trace of the marvellous building today, there are a couple of stones and columns still visible at the site. It's slightly outside of downtown Selçuk, but not far from there. It would be interesting to feel that there was once a masterpiece situated over that wide, empty landscape. Most of the artifacts unearthed are on display at British Museum in London.
Other than all these, note that it's possible to bump into Byzantine Aqueducts throughout the city, which were successful examples of water drainage systems back in the day, as well as many Seljuk and Ottoman mosques.
Accomodation
As I mentioned above, Ephesus is worth spending at least a couple hours. Selçuk city offers several sights as well, so you might want to stay at least one night at a nearby location.
Because of its proximity to the ancient city, I'd recommend you to make a reservation in downtown Selçuk first. There are many budget hotels in the city which are OK to spend a couple of nights. If you would like to have access to better facilities, I can recommend you to go to seaside hotels on the west or possibly all the way up to Kuşadası, which is less than 20 km away from Selçuk. It's possible to stay at a camping area, although there are not too many of them in Selçuk.
Another option that you should keep in your mind should be Şirince, a small town once inhabited by Anatolian Greeks. After the population exchange between Turkey and Greece, the demographics of the town changed dramatically, but the landscape stayed pretty much intact. It is 8 km from Selçuk and can be reached after you take a quite scenic route there. There are regular buses to Şirince from Selçuk. Şirince is famous for its scenery, historic buildings and its wines (there are many wineries in this small town). So, it's highly recommended if you have time and would like to taste some wine.
Last words
As one of the UNESCO World Heritage sites in Turkey, Ephesus is certainly one of the most impressive sights in Turkey. The way that some of the monuments are majestic and well-protected makes you feel you are actually visiting an actively inhabited city, while walking through the streets. I said streets, because the city is offers a complete package with the early examples of modern city structures. It's surely a must-see in Turkey, but once you visit there, do not overlook the modern city of Selçuk as well.